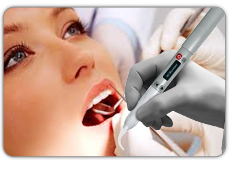 Benefits of Laser Gum Therapy
No Cutting!
No Stitching!
No Bleeding!
Kills Bacteria
Little discomfort during and after laser therapy!
Have you been told you need gum surgery by your? Do you periodontal disease? Bleeding gums? Gum pain? Bad breath? Do you have mouth ulcers? Cold sores? Laser gum therapy is the solution for you. your Newmarket dentists at All Smiles Dental can help! Patients sometime find themselves in pain and discomfort due to issues related to the health of their gums. At our award winning dental office in Newmarket we treat patients will all their dental needs and that also includes the health of your gums.
We also have our own periodontist gum specialist on the team who takes care of all of our patients needs right here in our dental office in Newmarket.
Gum Surgery can also be performed without incisions! Painless results with incredibly fast healing and revolutionary ability to regenerate your own tissues so you no longer have to lose your teeth.
Newmarket Dentist Dr. Nada Albatish is pleased to offer Laser Gum Therapy for the comfort of our patients at NO ADDITIONAL CHARGE compared to more invasive and more painful surgical procedure!
Call Newmarket Dentist, All Smiles Dental Centre at 905-235-6999 to book your appointment.
Meet Our Celebrity Clients!
Darryl Sittler
Leaf Legend
Monika Schnarre
Former Supermodel and Actress
Rachelle Viinberg
Team Canada Rower
Natalie Spooner
Team Canada Hockey
Miriam Mattova
Miss Universe Canada
Christine Cho
Beauty Expert of CTV